SYNOPSIS
SE.RA.PH whirred in the background... waiting, slumbering for the Grail to call upon it for the final plan. They would get what they needed in the end. They would make sure of it. The Grail had built up so much energy to get to where they were now, and they were about to finally pull it off. One last war to end all Grail Wars for the rest of eternity. The Einzberns wouldn't expect this at all. All they needed was a little more... just a little more.
Servant Profile: CASTER
Name: Olivi Versailles
Gender: Female
Age: 29
Height: 5' 6"
Weight: 50 kg
Appearance:
In Combat:
Out of Combat:
Occupation: Alchemist
Personality: Unlike most Alchemists, Caster is withdrawn and shy, not very boisterous of her accomplishments. Oddly enough, she is one of the few Alchemists who succeeded to do what most Alchemists wanted to do. Caster has some quirks that make her stand out immensely in a crowd. Nervous twitches, gulping, clinging onto the person she's out with (for she is never EVER alone), and sometimes even clumsiness are symptoms of her anxiety in public, lending to her withdrawn personality.
When she is in private, this eases somewhat. While she can certainly function, she still has trouble with people watching her and can easily make mistakes. In combat, she does not like to participate, though she is willing to do so if completely necessary. She can be a little bitchy at times if pushed hard enough out of her shell, but her shy apologies certainly make up for it. Getting close to her is hard, but if one does, she can prove to be a great companion.
STATS
STRENGTH: F (Normal Human Strength)
ENDURANCE: E-
AGILITY: A
PRANA: EX
LUCK: C+
ABILITIES
ITEM CONSTRUCTION: EX
Caster can create weapons grade broken phantasms, alongside INCREDIBLY powerful charms and potions, even more powerful than potions of lore that can even provide TEMPORARY immortality. These charms, while difficult to make even for Caster in two weeks, provide boosts that increase any given stat of the user an entire grade.
MAGIC RESISTANCE: EX
In exchange for frailty in physical being, Caster completely nullifies all modern magic and suffers little damage even from True Magic.
TERRITORY CREATION: B
Can create a magical workshop. Stock included.
GOLDEN RULE: A
No need to worry about money.
HIGH-SPEED DIVINE WORDS: A
The most powerful of modern spells can be cast as quickly as the most simple.
LIBRARIAN OF STORED KNOWLEDGE: C
Can access information that is not previously known.
MAGECRAFT: D
Understand modern magics used, cannot replicate.
NOBLE PHANTASMS:
Ianos Cryptograph: C [ANTI UNIT, ANTI ARMY, SUPPORT]
Spellbook containing magics and recipes that are used by Caster. Includes high speed shots of lead bullets and other metals, repeatable showers of iron needles, and even globs of lava. Support spells include reinforcement of weapons and armour, quick creation of healing potions, and smoke bombs.
Golemizer: A [ANTI UNIT]
Creates a large golem out of metal, hardened by Prana. This golem has all the properties of the metal used, though the stronger the metal, the stronger the golem. These golems materialize for the duration of the combat, expending more prana as the battle continues on. Materials expended are consumed.
A golem made of copper has:
STRENGTH: C
ENDURANCE: B
AGILITY: E
PRANA: E
LUK: C+
Increase strength and endurance for stronger metals. THEORETICALLY, a diamond golem could be crafted, however, it would require an inordinately high amount of diamond material.
HISTORY: Olivi quickly realized that she wasn't cut out to be an ordinary girl, married off at a young age. Not because she was strong or because she was ugly, but because she was horribly shy. Her parents were born of common blood, but elevated due to Olivi's talents in rudimentary magic. The nobility believed that she could be a great alchemist and use her for great gain, but Olivi found that she was cripplingly unable to perform under even medium-pressure situations. Frustrated with her, they threw her out, though her parents by some miracle managed to stay in their circle. Betrayed, she sobbed and sobbed and sobbed in the streets.
At the age of eight, she was finally taken back into a home, though not her parent's home. A fledgling magi took pity on her and taught her more magic to help Olivi get back home while honing her own abilities. This sparked a rapid growth in magic for Olivi, quickly surpassing her mentor in almost every magic, though she had displayed a special talent in charms, potions, and alchemy. Olivi and her mentor smiled, as her mentor had learned one thing about her little pupil: great things come in all sizes. The teacher herself had learned how to apply her skills alongside her own to benefit others.
Then everything changed. Olivi was skipping along at the age of ten with Teacher when she looked at a stone... analyzing it. Caressing it. Soon, it shone with a bright light, drawing attention to them. At the end of the glowing, the stone had changed colour immensely. It was not a dull grey anymore, it was a bright golden rod... mostly because it had morphed into gold. Teacher had to pick her up and return them to their humble abode, looking at it again. Olivi would never forget the conversation after.
"Olivi, you can NOT let ANYONE know about this. NO ONE." She put a finger up on my lips, shushing me.
"But... it'll help us! Both of us!" Tears fell from my face, dampening my dry, suntanned skin.
"I know, I know, but... I can't let them get you."
"Teacher... I want to make you happy. Let me at least give you this..." I hold out the gold nugget, probably enough to last her for a looong time.
"I can't stay mad at you, can I? But I can't."
"But..."
"You know what we should do with this?" She made it sound like a game.
"What, what?!?" I immediately perked up, bouncing with glee.
"Let's give this to an orphanage." It was an EXCELLENT idea! I hugged her at the mere mention if it.
"C'mon, c'mon!" No one would ever have to suffer like me ever again.
That was the last conversation Olivi ever had with her mentor. A raid happened on the village, killing many people, including her teacher. She was only trying to save the people, but they cornered her. She couldn't handle it... and tracked down the mercenaries who killed her teacher for two years after the fact, living on her sustenance potions and bits and pieces of gold here and there when she could be in private, buying small meals. She seethed with anger when she found them, both battered and bruised, as she found it within her to raise her hand... and...
ROOOOOAAAAAAAAAAAAARRRRRRRRRR!
A monstrosity of iron and cobalt rose from the earth, smashing the girl's enemies immediately while letting her sit on its shoulder. "NOOOO DEFY MASSSTTTEEEEERRRRR!" was its deafening roar, as it singlehandedly took out the small army of mercenaries. All the blood... All the blood around her was too much to bear. The golem set her down and returned to the earth. All the blood... Olivi couldn't handle all the death. Falling to her knees, she sobbed for hours on end, and when she was found, she was taken to be the magician who slayed the entire Crevelin Crew.
She swore she didn't want the fame. On the one hand, she wanted to keep helping people, and continued to do so for the rest of her life. On the other, she could not handle the crippling pressure of being a saviour. The only way she could handle it was by shutting herself out when she was not saving her country from mercenaries. This continued on for years and years, until she was a young woman... which was when she was brutally assassinated while she was asleep after a botched golem accidentally slew a prominent man's daughter.
All she wants is to make amends to the one girl she accidentally killed.
SERVANT
Code:


[b]REGULAR:[/b]
Name:
Gender:
Age:
Height:
Weight:
Appearance:
Occupation:
Personality:

[b]STATS[/b](+, ++, +++, - can be used in addition to the letter system explained in link below)

[b]ABILITIES (use link to determine abilities needed)[/b]
http://typemoon.wikia.com/wiki/Parameters_and_Skills

[b]NOBLE PHANTASMS[/b]

MASTER
Code:


[b]REGULAR STUFF:[/b]
Name:
Gender:
Age:
Height:
Weight:
Appearance:
Occupation:
Personality:

[b]ABILITIES:[/b]

[b]HISTORY:[/b]
Last edited by Artorius on 17th August 2012, 4:05 pm; edited 1 time in total

Guest

Guest





Master/Berserker:
Name: Sehiro Natseni
Gender: Male
Age: 23
Height: 6'1"
Weight: 86kg
Appearance:
Out of combat: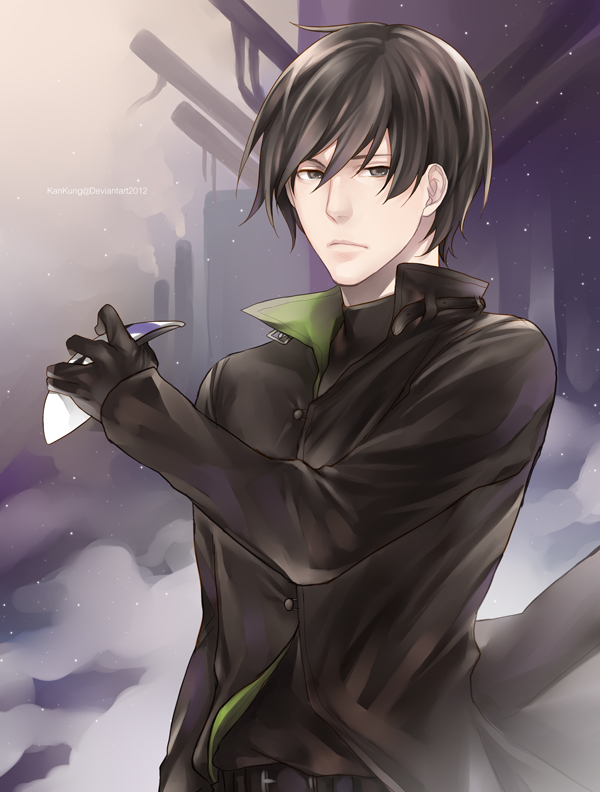 In combat:
Occupation: University Student/Street Brawler
Personality:
During the day, Sehiro maintains a strange but superb academic reputation at Todai University. He casually pursues his studies in electronic warfare and technology, keeping everything school-related in line with his strict "day to day" schedule. Though Sehiro's teachers all agree that he is an exemplary student despite his quiet arrogance, they have all conceded on a single point: he is exceedingly temperamental. Despite his strikingly good looks and muscular build, people tend to avoid him, saying that he exudes a dark, indescribable aura, something akin to a destrudo, a desire to destroy.
Yet no one argues about the fact that his grades are nigh perfect while his attitude isn't, which tends even more to the fact that no one at Todai knows anything about him. While his background and life remains obscure to the public, his personality has become a legend at the university. Many people would describe him as a quiet, morose and depressed individual, with an excessively cynical and pessimistic temperament.
However, Sehiro's true nature is revealed when the moon rises over the horizon, and penumbra falls over Tokyo. Donning a trademark cast-iron mask to conceal his identity, he roams the city streets, killing criminal, gang members and other shady characters, not unlike a dark vigilante. The few who survive his attacks live the rest of their lives in fear of the mysterious berserker, the man who crush a skull with his bare hands. The inhabitants of the dark streets of Tokyo all live in a similar fear of Sehiro Natseni, a crazed man who fights simply for the sake of fighting, with utter abandon for his own life and his sanity.
For some strange reason, Sehiro's induction into the final Holy Grail war was marked by his temporary infusion with the unknown spirit of a Berserker. Who this heroic spirit is, no one knows; why Sehiro was granted this ability remains a mystery. However, entering this stance quickly consumes Prana, leaving Sehiro in an extremely vulnerable position if he runs out.
STATS:
Only while in berserker mode!
STRENGTH: C
ENDURANCE: C
AGILITY: B
PRANA: D
LUCK: C
ABILITIES:
MASTER CODE CAST:
gain_mgi(32);
Greatly increases Servant's magical ability.
add_invalid();
Nullififes the enemy's next attack. This costs quite a bit of Prana.
heal_(32);
Moderatly heals Servant's vitality.
hack_(16);
High chance of stunning the enemy
BERSERKER ABILITIES:
In battle, only temporary.
MAD ENHANCEMENT: B
Rank up for all parameters, but takes away most of sanity. Used and abused by Sehiro.
BATTLE CONTINUATION: A
Makes possible to fight even with deadly injuries and can remain alive so long as one does not receive a decisive fatal wound. Due to his experience with extreme physical pain and death defying situations, Sehiro always manages to be the last one standing.
CHINESE MARTIAL ARTS: A+
Years of endless street fighting and constant military style training have honed Sehiro's martial arts skills quite profoundly. He is no stranger to combat.
EYE OF THE MIND (True): B
Capable of calm analysis of battle conditions even when in danger and the ability to deduce an appropriate course of action after considering all possibilities to escape from a predicament. So long as there is even 1% chance of a comeback, this ability greatly improves chances of winning. Sehiro's adept technical and analytical skills have often give him the edge in both academics and combat.
HISTORY:
To be revealed in the RP, by the intermediary of flashbacks and reminiscences.
In brief, he was rigorously trained by his father to be a human weapon, in both knowledge and strength. He has never met his mother, and thus he is extremely nervous when dealing with the fairer sex. A harsh childhood, an absence of friends all throughout life, and generally morose surroundings has left him as an extremely depressed and sad individual, seeking an answer to life, and a reason for his superior humanity, questions that may be never answered.
Why is he alive? What is his purpose?

Guest

Guest






Similar topics
---
Permissions in this forum:
You
cannot
reply to topics in this forum